More Red Fury
Some more progress on the Librarian in Terminator Armour, he's now rocking a cool 'flamed lightning' effect on his axe blade, and i've coloured in his face and done some simple colour/wash work on his tabard and purity seals.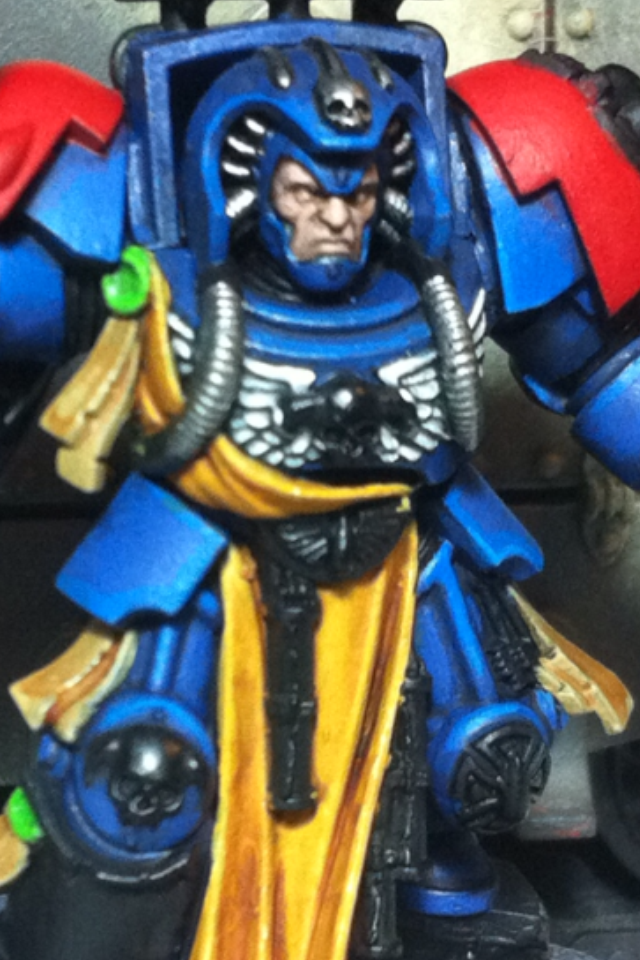 Face looks awesome for just a colour, wash and retouch!!

Sang Priests... going to run with bare heads I've decided. Still loads to do, but the flesh tones have turned out great. Its nothing more than the now out of production 'Tallarn Flesh' foundation paint, a wash of Devlan Mud and then a retouch of Tallarn. Will go with some lighter highlights at a later point, but its more than table-top standard at this point.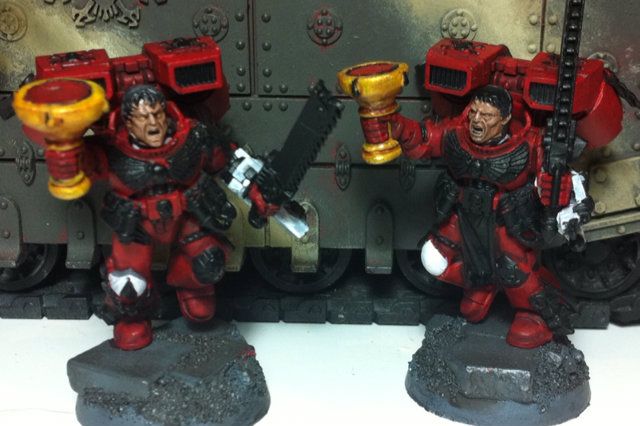 Enter the Baneblade!!
I also decided to finally pull my finger out and get my Baneblade finished/ moved forwards. This is a tank which was previously painted in a **horrid** Mechrite Red base colour, of which small bits can still be seen- im cleaning these up at the moment.
Base is the now (sadly) superceded Charadon Granite- luckily my pot of it is still nice and useable. The base colour for the camo stripes are Zandri Dust (Base) and then I used umm... I cant rememeber? Its the one thats almost Bleached bone, but a few shades darker... this was used in the middle of the stripes to make the scheme 'pop'. All the camo was done with a GW tank brush, drybrushing lazily while watching some TV.
And cos I was bored I thought i'd try some blue tones and white reflecty stuff on the searchlight, I think it worked out okay. Next up is all the metal on the gun barrels, on the tracks, etc, and I'm going to do some gold trim as well- ie silver with sepia washes, for that 'battleworn' look.